Silo Filter Vents are used to vent silos into which material is conveyed. As the material fills the silo, it displaces air, which must be vented without loss of product. Product collected on the filter bags is returned to the silo by shaking the bags after filling has been completed. Silo Filter Vents are available in two series: Natural Vented, where a low positive silo pressure is acceptable, and Blower Assisted, where a negative silo pressure is desirable. A Continuous Duty Vent (72-CS) is also available to provide continuous filtration through two individual compartments, one in the collecting mode while the other is being cleaned. All electric, no air supply is required. A control panel is provided with this unit.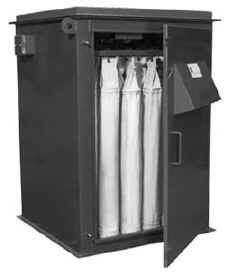 Batcher Filter Vent
Batcher Filter Vents are used to filter and release the displaced air caused by product filling the weigh hopper. The filtered product is then returned to the weigh hopper by gravity through the action of the shaking bags. Both Natural Vented and Blower Assisted models are available.

Automatic Overfill Control System
The Griffin Overfill Control System, consisting of a closing valve, limit switch and control panel, completely automates silo filling and venting while preventing overfill and resulting damage. It is designed to operate on any pneumatic silo filling system with any number of fill pipes. If the high bin signal is clear when the trucker connects his hose to the fill pipe, the butterfly valve will open and the silo will accept material. When the high bin indicator is activated, an alarm will sound telling the trucker to stop his unloading operation. In 90 seconds the butterfly valve will close, sealing off the fill pipe and making it impossible for the trucker to continue pumping in material. The bags in the dust collection system will then automatically shake.
Overfill Control Accessories
Pressure Safety Valve.
High Bin Indicator.
Alarm Bell.
Pipe Cap.
Silo Filter Vent Accessories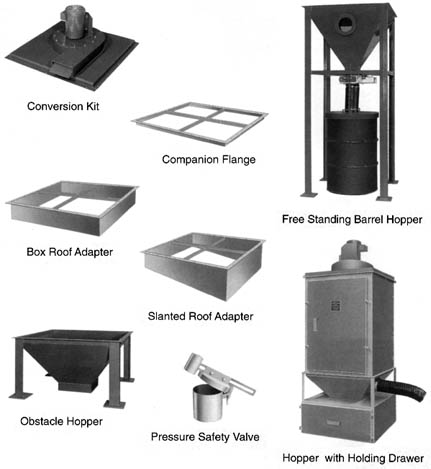 For additional information on sizing or application call today toll free
866-630-3500
or e-mail us today sales@globaltecheng.com




Creating Solutions for the Pneumatic Industry since 1991
For additional information on sizing or application call today toll free
866-630-3500
or e-mail us today sales@globaltecheng.com